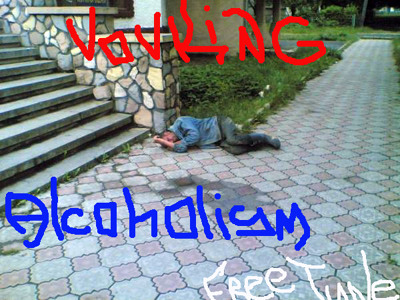 Would you look at that, it's Tuesday already. Time really flies when you are having fun and when you are working non-stop everyday! I always try to bring you guys as much free tuneage as possible along with the other content we provide and today we've got another freebie for you to grab.
There is not a whole lot I know about the mysterious man they call the VovKing other than he has some wacky pictures on his pages and he is putting out some wicked beats by way of the Ukraine. His latest free track he let go entitled "Panic at the Disco", quickly reached the 100 download limit and I have enjoyed dropping it in more than one set myself. Well, VovKing is back with another banger called "Alcoholism" and it will leave you feeling like you've had one too many.
Big kicks and housey hats start us off as sub-bass frequencies find their way into the mix and ravey leads make their presence known. Then it's time for the big wobbling bassline which is accompanied by glitched out Hip-Hop vox and a side order of Old School synths to round things out. Fun and funky "Alcoholism' has plenty of energy to get the kids rocking and leaving em feeling a little drunk. Check out the VovKing's other works by following the links below and be on the lookout for big things coming from him including a massive remix for Kick It.
VovKING - Alcoholism (Original Mix) by VovKING
VovKing on Facebook -
https://www.facebook.com/djvovking