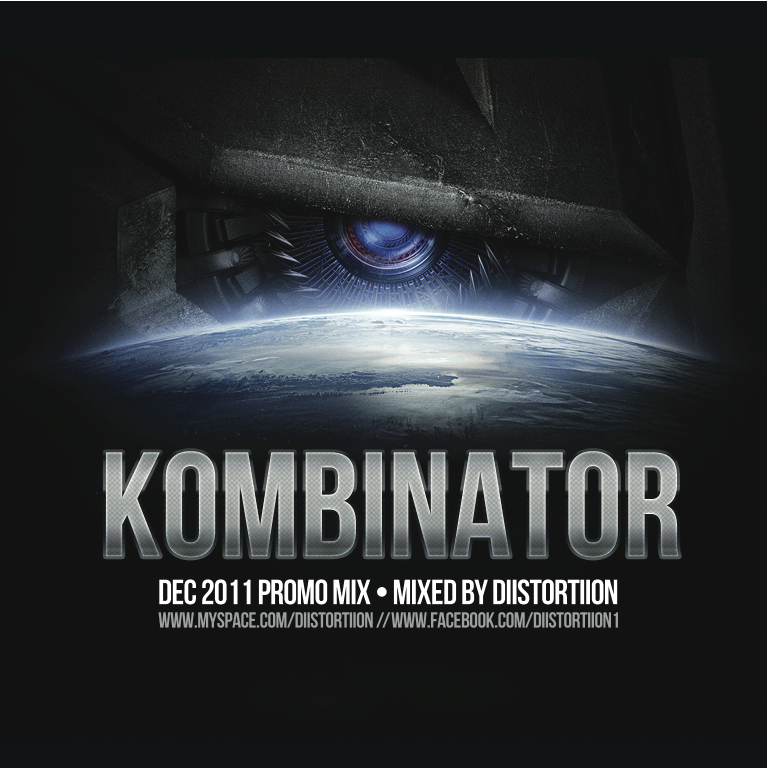 Pushing phat, driving broken beat sounds for close to a decade now, DiiSTORTiiON has had plenty of experience playing at clubs and events across Australia and abroad.
His roots firmly planted in Breakbeat, DiiSTORTiiON pulls influences from across the electronic music spectrum in both his production and live performances. A hybrid sound of Breakbeat, DnB, Dubstep, Drumstep and Electronic Hip hop has seen him rise in popularity within the international and local Broken Beat scene, both in the music charts and in the live arena.
Originating from Perth, Western Australia, DiiSTORTiiON discovered breakbeat in his early clubbing days and never looked back. Seeing acts like Soul of Man, Krafty Kuts, Aquasky and Adam Freeland, rock Perth's most renowned underground club – Ambar, completely converted him over to electronic music and his alter ego DiiSTORTiiON was born.

Quickly gaining sets at clubs all over Perth, DiiSTORTiiON became well known for his harder edged style of Breaks while still having a party vibe blended throughout. Playing out more and more eventually caught the eye of Perth's Elite Dj's "Japan 4", otherwise known as Ambar's residents and he was soon invited to join their ranks.
Stepping outside the clubs DiiSTORTiiON kept busy by doing plenty of local radio support slots and a five year long weekly radio show called 'Broken Frequency'. Starting out on local Australian radio Kranky Digital, DiiSTORTiiON eventually moved over to the number one online Breakbeat radio station in the world, NSB Radio, where he hosted a weekly 2 hour radio show showcasing the newest Breakbeat tracks to a worldwide audience.
Spreading outside of Perth DiiSTORTiiON toured regularly on the east coast of Australia supporting such acts as Elite Force, Chase & Status and The Rouge Element while they were on tour. Gigs on the East Coast got so regular he eventually decided to pick up everything and move over to Melbourne to continue his Dj career from there.
Diistortiion's hard work in the studio eventually paid off as well with three of his original tracks being signed to USA Breakbeat label Ridiculoud Records and his online mixes, bootlegs and original material reaching over 14,000 downloads worldwide. His first EP "Dynamite" was a massive success with it receiving 3.5 out of 5 stars by Dj Mag and it also received support from Far Too Loud, Karton, Kickflip and many others. Mr No Hands, the former Breaks and Bass reviewer over at Mix Mag in the UK, described Diistortiion as "a Breaks act to keep an eye on globally."
On the Djing front Diistortiion has picked up multiple residencies with the Mixed Messages crew, Skool of Thought's "Against the Grain" parties, Brown Alley's resident Saturdays "Under Suspicion", Melbourne's premium weekly Breaks night "Bass Camp" at Lounge plus guest spots all over town.
Support slots also stepped up with DiiSTORTiiON being fortunate enough to share the stage with some of the biggest names in the business including Stanton Warriors, Elite Force, Ctrl Z, Napt, General Midi, The Freestylers plus many more.
In 2011 Diistortiion heavily focused on production and in the first few months of the year he had three of his original tracks signed and released on Ridiculoud Records, V.I.M Records and Definition Breaks. Remix requests are steadily coming in as well with remixes for "Best New Label" at Breakspoll 2011 winner, Scarcity Records plus work with V.I.M records, Definition Breaks and Canadian label Breakz R Boss.
One of his latest tracks, his remix of Bassik's tune "It's About Time" (out on Breakz R Boss records) made it into the top 3 releases on Beatport's Top 100 releases chart plus in the top 10 tracks of the week and on Trackitdown.net it made it's way to number three in the Top 100 Breaks charts. Gigs haven't slowed down either with a heap of massive support slots at events, clubs and festivals up and down the East Coast. Making the move into promotions as well, Diistortiion is heavily involved with running the Mixed Messages parties at Brown Alley with his mate Muska and the rest of the Mixed Messages crew. These parties cover a wide range of electronic styles and regularly have festival style line ups blowing the place apart! You can check out their website at www.mixedmessages.com.au So what can you expect from one of Diistortiion's Live sets? Embracing the quickly changing forward progression of Dj culture at the present time, DiiSTORTiiON loves the genre mashing styles of some of the world's current top Dj's and he combines all of the bass heavy sounds he adores into his sets. Whether it be Breakbeats, Drum & Bass, Dubstep or Electronic Hip Hop, Diistortiion will seamlessly bring it all together while blending in heaps of his personal edits, bootlegs and original tracks enabling him to incorporate his own musical creations with his Djing. If you like big basslines, phat drums and big synths then come check it out!! The Kombinator mix that Diistortiion recently put together is the perfect example of this hard and heavy style mixed to perfection. Touching on multiple genres throughout the entire mix and ripping through tracks like a chainsaw through trees, Diistortiion is here to show you why he is not going anywhere but up! Loving a huge variety of Broken Beat tunes from 2011 at all BPM ranges, this mix pretty much sums up what Diistortiion has been playing and representing live, big time tunas all across the board. If it's wicked, epic and broken, Diistortiion is gonna rock it! To stay up to date with his new promo mixes, gig and tour dates, free choons & edits and all his releases, follow Diistortiion on his Facebook Page.

Diistortiion Kombinator Mix

01. -

Intro

02. -

Nero "2808"

03. -

Professor Green "Jungle" High Rankin Remix (Neon Steve Rub-A-Dub)

04. -

Skrillex "Reptile's Theme"

05. -

Kid Kenobi "Bass Kick"

06. -

Dr. Dre Ft. Snoop Dog "Next Episode" Jay Robinson Remix (Neon Steve Re-Rub)

07. -

Far Too Loud "Ready For the Stomping"

08. -

Access Denied "Red"

---------

Stanton Warriors "Get Up" (Accapella)

09. -

Refracture "Let Go"

10. -

Hyper "My World"

11. -

Aquasky "Take Over Me"

12. -

Black Dogs Vs Matt Sofo "Crazy Muthfuckers" Karton Remix

13. -

Lyrikill "Yes Infuckindeed" Ek Remix

14. -

Specimen A Ft. Dvid Ivan"Chasing Shadows" Pyramid Remix

15. -

Azzido Da Bass "Dooms Night" Stanton Warriors Remix

---------

DiiSTORTiiON Intro Build Edit

16. -

Deenk "Shut"

17. -

Myagi "Chaos Quokka" Beatman & Ludmilla Remix

18. -

DaVip "Brick"

19. -

Hyper "The End" Beatman & Ludmilla Remix

20. -

Kombainer "I Don't Have Enough Money" 4Kuba Remix

21. -

Access Denied "Paranoia"

22. -

Under This "Trash the Disco"

23. -

Kid Digital Ft. Profit "Done with That" Breaks Mix

24. -

The Qemists "Renegade"

25. -

The Qemists "Renegade" Wickaman Remix

26. -

Figure Ft. Whiskey Pete "Cut Throat"

27. -

Russo "Bad Tonight" Shockone Remix

28. -

Rollz "Plugged In" Bassnectar Remix

29. -

Rage Against the Machine "Bulls on Parade" Team Awesome Remix

30. -

Karton Ft. Fraksha "Bang"

31. -

Deekline & Ed Solo "Always RIP" Pyramid Remix

32. -

Dopamine "Hold You" Pyramid & Rennie Pilgrem Remix

33. -

Sub Focus Ft. Coco "Splash" DiiSTORTiiON Intro Edit 2 Kombinator - Mixed By DiiSTORTiiON (Dec 2011) by DiiSTORTiiON