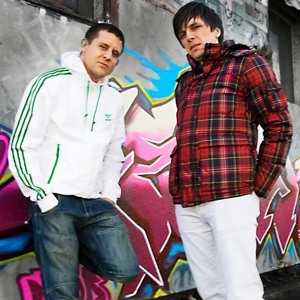 Ah yes that's right everybody, we've got another handful of free tunas coming at you by way of those purveyors of bass, Niko & Lyall. Just a few hours ago they uploaded their Booty Pack Vol. 3 and all five tunes contained within are available for Free!
Nick Kopout (Niko) has been Dj'ing and producing for around ten years now and is most renowned for his collaborations with international star Kelevra, solo release work and gigs at club nights such as We Love Space @ Space Ibiza. As a solo DJ he has played across the UK circuit @ nights such as Simma & Misadventures and is resident at club night Essence where he can be seen regularly working the dance floor. 2010 was the breakthrough year for Kopout as he performed in destinations across Europe such as the French Alps/Ibiza and London, but probably most significantly he teamed up with Slinkys Tim Lyall to form the production duo Niko & Lyall.
Tim's DJ'ing career began 19 years ago while filling in for a Miss Moneypenny's DJ. H then later flourished at classic venues such as The Gardening Club and the legendary Madison's in Bournemouth. With a growing reputation, he went on to play across the UK at The Cross, Peach, Po Na Na, Evolution, Club M, the Tunnel, Roar, Escape, Passion and many more. Tim has rocked huge crowds across the UK at Homelands, VFestival, South Coast Weekender, Wakestock and numerous Slinky Arena Tours. He has taken part at Nature One Fest in Germany, MTV/Slinky beach party, Boracay Beach and several tours of Australia and New Zealand with such names as John Kelly, Leroy Thornhill (Prodigy), Public Enemy, Lee Haslam, Tribe Called Quest, Tripper, B.L.I.M, Sander Kleinenberg and Eric Morillo. As a Slinky resident for 8 years Tim's gained a wealth of experience from playing alongside the biggest names in the industry including Fergie, Tiesto, Judge Jules, Seb Fontaine, John Kelly, Paul Oakenfold, Lisa Lashes, Eddie Halliwell, Carl Cox, the list is endless. Even in this exalted company Tim more than holds his own. His musical style incorporates everything from House, Breaks, Progressive, Techno and beyond, placing him firmly at the cutting edge of today's DJs.Together these two have been smashing out killer production work on numerous bootlegs which have been caned the world over and on their first official release (Remix of Atlantic Drift - Another Day 2010) they got a feature on the Ministry of Sound Mash up Mix 2010 compilation CD which got raving reviews.
Kicking off 2011 supporting Pendulum for Essence on NYD was a great start to the year for Niko & Lyall and they've also had numerous tracks released this year on labels such as Ispirato, Up:start Music & Born 2 Dance Records which have received great reviews in high street magazines Mixmag, DJ Mag and the website Tillate.com. With current track support from the likes of Judge Jules, Brandon Block, Joshua Roberts & Lisa Lashes, 2011 is looking like an exciting year for the Niko & Lyall.
Keeping the buzz on their name hot you can now grab five massive tracks from their Booty Pack Volume 3 absolutely free! First up is Friends Electric's "Puzzle Pieces" the Niko & Lyall Remix which is a perfect display of what these guys can do in the studio. Crispy drums and anthemy vox are paired with a big phat bassline and a touch of Drum & Bass flavor.
Next up is Brainbug's "Rain" receiving the Niko & Lyall reworking. Also backed by precision drum work with D&B style this is another top tune with an epic feel. Warping Hoover bass and vocals from the original will take you on a journey back to a time when you had glow-sticks in your hands and a visor on your head.
"Pumped Up Kids" takes things in a funkier direction while keeping it heads down with slamming sub frequencies and another dose of Hoovers.
"Steel Drums" the Niko & Lyall remix takes things into Reggae territory with twisted keys and the Ragga Twins providing the crowd moving lyrics underscored by wobbling bass with a big dubbed out section to make the kids smile.
Finishing things off is an original from Niko & Lyall entitled "In the Crack Den". Method Man bits are paired with a phat breakbeat and an onslaught of gun shots before the sirens are unleashed. An homage to the green goodness takes center stage for the main breakdown before it get's real hot for the ladies again.
Booty Pack Volume 3 (Free Downloads!) by Niko & Lyall
Niko & Lyall on Facebook -
www.facebook.com/nikoandlyall
Niko & Lyall on Twitter -
twitter.com/#!/nikoandlyall