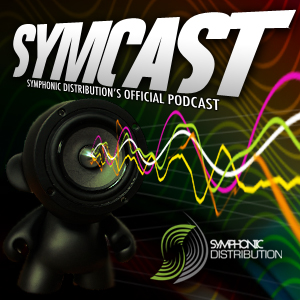 SymLIVE is the official web show of Symphonic Distribution broadcasting live every Wednesday at 5pm Eastern Time! Each and every week residents Viro & Rob Analyze play some of the latest Breaks, Dubstep, Electro House, Tech House and more from artists all over the world and Symphonic Distribution's labels.
To go along with the mix, there is a Top 5 track countdown featuring the hottest tunes delivered for the week as well as giveaways and more! Symphonic Distribution has put up 29 massive mixes available for free download as well as many other freebies and goodies!!!
In simple terms, Symphonic Distribution's core business is to deliver music from musicians to stores such as iTunes, Rhapsody, Spotify, eMusic, Beatport, and more. Artists and record labels aren't easily equipped with the tools and resources to be able to deliver their music to these platforms, so as a partner they do the hard work of getting it into these types of places for music fans to potentially buy your music! Each client of theirs has the potential to choose a deal that suits them best and can receive up to 100% of royalties from all stores!
Symphonic also specializes in providing Mastering, Web / Graphic Design, Piracy Protection, Marketing, and more! Distributing for over 2,000 clients from around the world, they push all genres and work closely with top labels such as, Play Me Records, Simplify Recordings, Heavy Artillery Recordings, Ultragore Recordings, Kick It Recordings, and many more top artists
SymCast Podcasts
by
Symphonic Distribution
Free Tracks From Symphonic -
symphonicdistribution.com/category/freemusic
Free Mobile Apps From Symphonic -
symphonicdistribution.com/download-our-app
Stream of SymLIVE -
symphonicdistribution.com/clients