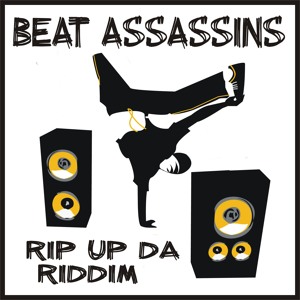 We have some amazing tunes to pack in your bowl today from the London based artist Beat Assassins! Starting with the business, Beat Assassins new releases "Rip Up Da Riddim" and "Livin Good" are out now on beatport and both throw down some massive energy. The main release of these two being "Rip Up Da Riddim" which delivers huge Urban Electro vibes that have become synonymous with the Beat Assassins.
Rip Up Da Riddim (as the song title suggests) is a peak-time floor smasher. The gritty electro basslines, hip-hop vocals, high-end leads and urban piano riffs hammer the track home. A Dubstep-influenced dropout works the floor building to a power lead drop that will make many clubbers' night.
Livin Good sees the Assassins dropping a funk-fueled, four to the floor, booty-house belter. Again we see a peak time delivery from the Assassins with big leads, hip-hop vocals, mid-section dynamics and phat Electro basslines working a throw-down party anthem. A guaranteed floor smasher!
On to the free tuna, we have a Booty House Bootleg of the Busta Rhymes classic "Lite Ya Ass On Fire" from Beat Assassins! Featuring a big bassline and some very original synths, this track is topped off by Busta's vocals dropping the fire!
The Beat Assassins 2012 mix tape starts off with an original track "Ace is Back" off of Mofo Recordings which sets up the mix perfectly considering most of the tracks featured on the mix are from the Beat Assassins. With some exclusive tunes from Beat Assassins, this mix also includes some new tunes from up and coming artists as well as some classics.
Beat Assassins Mix Tape 2012
01. -
Beat Assassins "Ace is Back"
02. -
Deekline & Dustin Hulton Ft. Sporty 0 & Yo Majesty "I Like Girls"
03. -
Beat Assassins "Livin Good"
04. -
The Sleepover & Prendii "Bitch Please" Tonic Remix
05. -
Beat Assassins "Rip Up Da Riddim"
06. -
Beat Assassins "Vowla"
07. -
Ed Solo & Deekline Ft. Dj Assault "Gimme"
08. -

Beat Assassins "Inhale Exhale"
09. -
Deekline & Dustin Hulton Ft. Kidd Money &
Sporty 0 "Whip It" AC Slater Remix
10. -
Gary Gecko & Pigbwoy Ft Feral "Cantankerous"
11. -
Freefall Collective "Ganja Man" Beat Assassins Speed Garage Remix