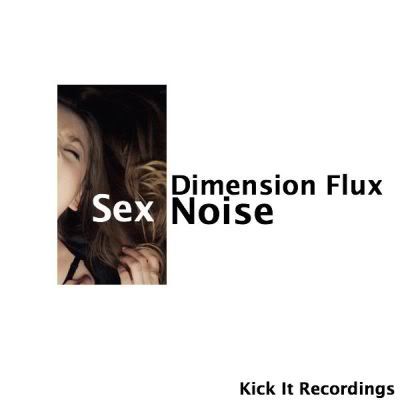 Just out yesterday on Kick It Recordings we have "Sex Noise" from new comers to Kick It, Dimension Flux who bring us their newest single and what a tune it is! Driving Electro beats and tough female vocals come together for this great crossover track. This one would work well in a Breaks, House or even an Indy Dance Dj set! The bassline is thick and catchy and the synths add to the upbeat vibe. This one should get the people moving and if you're not the biggest fan of vocals, there is a dub mix as well.
On the table we have a plate full of remixes up for offer coming from Dj Phunkae, Direct Input and TJFX of Sneaker & The Dryer! All remixes keep the feel of the original track while each artist puts their own spin on things and none disappoint in the slightest!
First up is the DJ Phunkae (Chunk N Attack) mix who is bringing you the funk as you'd expect. Housey breaks and hats comingle with the heavy phunked up bass and some vocoded vox that adds to that 70's funky feeling. Phunkae keeps things fun and upbeat.
Next up is Kick It resident Direct Input who turns up the heat on this one. The bass is a bit edgier and Trancey synths and pads bring up the energy while kickass edits and changeups combined with monster builds make for a peaktime stormer. Primetime stuff from Direct Input. Last but not least we have TJFX of Sneaker & The Dryer, also with his first release on Kick It. TJFX turns out a stormer sticking with the Electro House edge and combing punchy kicks and crisp snares along with heavy edits and rolls, he gives it some Breakbeat flavor making this one another perfect crossover. It's already been receiving heavy support with airplay from multiple well known djs as well as a "Staff Pick" on BeatsDigital.com If you like your stuff on the glitchier side, this is the one of the bunch for you. Check em all out below and pick them up at your favorite digital download site!
Bass Reflections -

"BIG SOUNDS! Loving all the mixes on this one. This release is solid all the way around and I will definitely be supporting it! A bit of everything for everyone in this one."
Retroid -

"The Direct Input mix is doing it for me, I'll be playing this one!"
Daniella Downs

-

"It's the TJFX remix for me, big ups to him!"
Luqas -

"Ballsy, all mixes will work on the floors!"
Jaden -

"Solid Electro club bangers. Diggin the TJFX remix"!
Dimension Flux on Myspace -
http://www.myspace.com/dimensionflux
Dj Phunkae on Myspace -
http://www.myspace.com/phunkaemusic
TJFX on Soundcloud -
http://soundcloud.com/tjfx