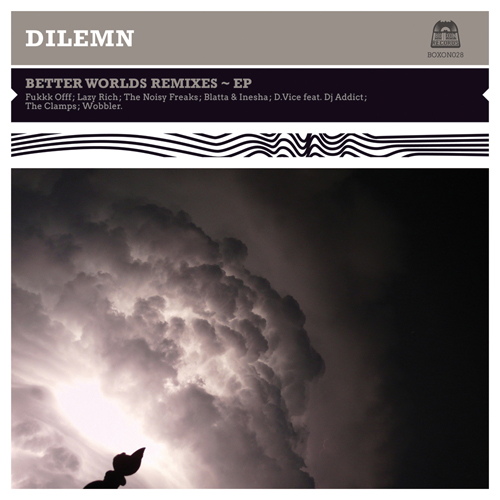 I hope everybody had a good weekend, Monday is here again and it's back to business. Getting your week started off the right way, we have a proper banger for you that's available for free. I've heard more than a few remixes of Dilemn's "Clapping" going around and I might have even dropped a couple of them myself but today's freebie has got to be my favorite version to date and it's coming at you from another Toulousien, The Wobbler.
Having started out on the piano first and then moving to the guitar due to his love for Rock, as Wobbler began to come into his own he found electronic music and there would be no turning back! Combining his love for big riffs and his addiction to big beats and Electro, Wobbler has put out peak time remixes on labels like Phonon, Ventuno and Borderline. Recently signed to Boxon Records he was asked to remix Dilemn's "Clapping" as part of the "Better Worlds" Remixes EP which just dropped today.
Starting things off with the recognizable claps and licks from the original, Wobbler quickly brings in a hefty kick and starts tweaking the shit out of things with edits that can only come from the mind of mad man! Trancey leads and another dose of guitar take things back a step and then and it's time to get down and boogie when the beat comes back around. Super funky and constantly changing, things move right along into the mini Dubstep break that drops you off into the main breakdown. Just long enough to add some anticipation without being overdone or dragged out it does a nice job of building the energy and then it's back to the bassline and catchy vocal bits with some slap bass to back it all up. Grab it for free and then head on over to Beatport to pick up the full "Better Worlds" Remixes EP.
07 DILEMN - "Clapping (Wobbler Remix)" FREE TRACK Dirty Bass Electro by Boxon Records
The Wobbler on Soundcloud -
soundcloud.com/thewobbler
The Wobbler on Facebook -
www.facebook.com/thewobblermusic
Dilemn on Soundcloud -
soundcloud.com/dilemn
Dilemn on Facebook -
www.facebook.com/dil3mn
Boxon Records on Facebook -
www.facebook.com/boxonrecords